Meet Shamita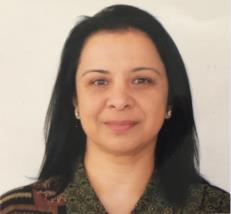 Shamita Mahajan has lived in Overland Park, KS for 18 years with her husband and two children. Before moving to Kansas, she lived in many countries, including India, England, and France.
She received her Bachelor's degree in Economics and a Master's degree in Business Administration from Bombay University. She also has a Diploma in French from the Sorbonne University in Paris.
During her time in Paris, she worked for the OECD (Organization for Economic Cooperation) for several years. She also interned briefly for UNDP (United Nations Development Program) in New Delhi and for the Education Development Center in Boston.
After moving to Kansas, she decided to stay at home full-time to raise her children and volunteer. Shamita always found solace in books, and regularly took her children to the library. The world of books provided a link to her past life traveling around the world, while still allowing her to be at home with her husband and kids.
Shamita volunteered extensively at her children's school library, and worked for as a paraprofessional in the Blue Valley School District. More recently, Shamita has started providing counseling to students seeking help with their college applications. She loves working with her students and hopes to expand her counseling service in the next few years.